Truckenmiller's In the Military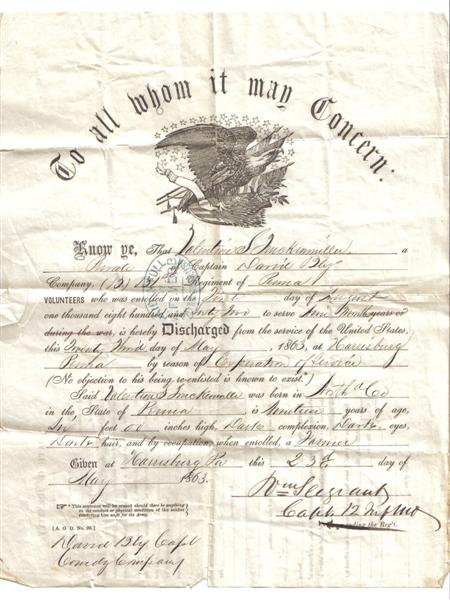 Revolutionary War:
From "Civil War Soldiers Of Union County"
Jacob Truckenmiller (son of Sebastian Truckenmiller, a soldier) b. aug 29, 1759, Berks Co. d. Delaware Twp., North'd Co. Pa. Aug 23, 1823, buried McEwensville, Pa. will book 2, p.442 at Sunbury, Pa. Children: Jacob, Solomon, George, Samuel. Wife Annamaria b. 1/16/1763 Kirchner, d. 7/27/1843. See DAR Patriot Index P.688.
Civil War:
V S Truckenmiller ,
08 August 1862
DISTINGUISHED SERVICE
Union
Pennsylvania
2115 2115
Enlisted as a Private on 08 August 1862
Enlisted in Company B, 131st Infantry Regiment Pennsylvania on 08 August 1862.
Mustered out Company B, 131st Infantry Regiment Pennsylvania on 23 May 1863 in Harrisburg, PA
(discharge paper pictured on left)
American Civil War Soldiers Record
about D S Truckenmiller
Name:D S Truckenmiller ,
Enlistment Date:03 April 1865
Distinguished Service:DISTINGUISHED SERVICE
Side Served:Union
State Served:Pennsylvania
Unit Numbers:2016 2016
Service Record:Enlisted as a Chaplain on 03 April 1865
Commission in Company S, 16th Cavalry Regiment Pennsylvania on 03 April 1865.
Mustered out Company S, 16th Cavalry Regiment Pennsylvania on 11 August 1865 in Richmond, VA

Name:Daniel Truckemiler ,
Enlistment Date:19 June 1863
Distinguished Service:DISTINGUISHED SERVICE
Side Served:Union
State Served:Pennsylvania
Unit Numbers:2241 2241
Service Record:Enlisted as a Private on 19 June 1863
Enlisted in Company I, 28th Indpt Infantry Regiment Pennsylvania on 19 June 1863.
Mustered out Company I, 28th Indpt Infantry Regiment Pennsylvania on 28 July 1863
World War II
Calvin H. Truckenmiller 1/30/1918 – 4/19/1977 Troxel Pa 180th Hy Pon Engr. Bn. 3rd Army
--------------------------------------------------------------------------------------------------------------------------------------
Back To Heather's Heritage Pages
Researcher - Heather Truckenmiller - htruck@alltel.net
Researching: Truckenmiller, Sulouff, Brown, Smith, Confer, Forney, Lumbard, Ridge, Oberdorf, Aikey
--------------------------------------------------------------------------------------------------------------------------------------